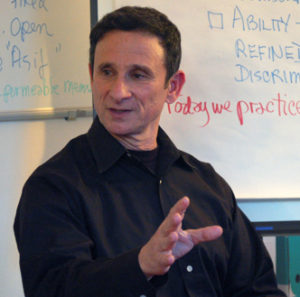 Art Giser was awed by how many people could transform their lives using NLP, and he was awed how people could transform their lives using transformative energy work, intuition development and spiritual development.
He began to explore combining these different areas in order to create something that was more powerful than any one system alone.  The result is Energetic NLP.
Over the last 25 years, Art has continued to develop Energetic NLP into the wonderful field that it is today.
He has studied with all the developers of NLP.  Leslie Cameron-Bandler became his mentor and he was part of her research team that developed Imperative Self Analysis.
He studied with incredible energy practitioners who taught from Western, Indian, Philippine and Brazilian traditions.
He has had the extreme good fortune to receive two "empowerments" directly from the Dalai Lama.
The internationally known Brazilian healer, John of God (known as "the Miracle Man of Brazil") has been working with Art for 7 years to increase his abilities.
Art is based in San Fransisco and travels regularly to Brazil, London and Paris to teach Energetic NLP, as well as running training programs in the USA.
What the experts are saying about Art and Energetic NLP
"Art is a superb and gifted trainer, one of the best. He combines warmth and humor with exceptional clarity, and is absolutely committed to his participants achieving their goals."
Leslie Cameron-Bandler,
Co-developer of Neuro-Linguistic Programming (NLP)
and Imperative Self-Analysis.
"I have had the privilege of knowing Art for more than 20 years.  In all my interactions with him, I have found Art to be a man of integrity, intelligence, skill and heart.  In addition, Art has tremendous versatility. He can address the delicate personal and emotional terrain of human emotions and at the same time stay focused on achieving practical outcomes.
I am frequently called upon to make referrals for a variety of coaching and consulting request and Art is always at the very top of my list.  I wholeheartedly recommend him as a trainer, coach, consultant and practitioner.  Whatever the situation is, Art will be able to help!"
Robert Dilts, one of the most exceptional developers of NLP,
and author of 14 books on applications of NLP.
"Art Giser is a fine person as well as being a truly gifted teacher and healer.  We have seen and experienced the deep changes that can occur as a result of his fascinating work.  He blends energy work with powerful NLP patterning about as well as it can be done.  We both recommend his training and his work."
Tim and Kris Hallbom, President and Co-Director
The NLP and Coaching Institute of California
"I met Art 16 years ago.  We had both studied psychic and human development for many years already.  Immediately we began an exciting collaboration that has grown more and more exciting.
I have observed Art becoming ever more skillful, powerful and effective; synthesizing meditative disciplines from the East and the West, and even from South America, into a unique, extraordinarily helpful system.
Art stays grounded and adventurous, practical and visionary; and can communicate all this information clearly and directly."
John Friedlander, author of 'Basic Psychic Development:
A User's Guide to Auras, Chakras & Clairvoyance'
"I have worked with Art, since meeting him in the USA in 2006 and found that Energetic NLP fits perfectly with NLP – when you are helping someone release an emotion or a trauma then adding some energetic release enables them to get great results instantly, for once the emotion has really left you energetically there is no possibility of it returning.  Energetic NLP offers you the ability to coach at a whole new level, you can help clients get remarkable new insights.
To learn the skill to release energy that is trapped in your body and has been for some time, has a profound effect on your health.  I now have a strong belief that 'We can't be ill if our energy is flowing.' There will always be more to learn and energy is key to so much.  Two clients in my practice, with Chronic Fatigue, have made dramatic improvements to their health by just understanding personal energy and protecting themselves from other's negative energy.  It is so simple and yet so profound.
I know what it is like to pick up other people's negative energy in the course of doing invaluable work with them: our own protection is essential to our health and well-being.  Art's method of delivery is fun, insightful and illuminating.  I have learnt much about myself, and developed invaluable skills for my clients."
Olive Hickmott, Health and Wellness Coach, UK
www.EmpoweringHealth.co.uk
Olive is the author of the first book on Energetic NLP
'Recover Your Energy' – an Amazon bestseller NLP book
In praise of Art
A student's story of success over cancer
"In September 2004, I received a phone call from my doctor. He told me they had discovered some abnormal cells in my left breast – Ductal Carcinoma in Situ (DCIS). His words chilled me to the bone. I realized that I had just been told I had breast cancer. As he spoke on, there was this voice in my head that could not be stilled. It said, "Call Art" and it said it over and over. Needless to say shortly after ending the call with my doctor, I picked up the phone and called Art Giser.
I had taken a series of classes with Art in Southern California a few years before and I remembered the positive effect the course had on my life. The focus of the class combined energy work with Neuro Linguistic Programming. The class taught us to reframe beliefs, to utilize language to deal with internal and external issues, to overcome the fear and roadblocks we all create in our lives and how to move forward in a positive manner.
Among Art's talents is the ability to present course materials in a very engaging and positive way. His presentation and technique encouraged each of us to work with the tools that were being provided. An attentive individual, Art worked with his students to find ways to break down life concerns in a way that was not threatening or uncomfortable. Gently delving, he gave each of us his insights while dealing with associated issues that we were often unaware of.
Although Art wasn't home to take my call, I felt less desperate leaving the message and saying the words "breast cancer" out loud. I felt relieved. My inner voice patted me on the back and I realized later that saying the words out loud for the first time in a phone message to Art was my first step towards healing.
Art called back shortly and we talked. His words were comforting and his ability to look into inner issues helped me to understand that breast cancer was not a death sentence. In a series of continuing sessions, he was able to get to the heart of what many might consider the impetus of this cancer and we were able to address the underlying causes. Art provided not only insights, but once again supplied me with tools and techniques to deal with the various concerns related to an illness of this type.
Over the next few months, I underwent surgery and radiation therapy. And throughout that time, I drew on the support and the words and the techniques that Art gave me so that I could maintain a positive attitude through an extremely arduous and trying time. Friends marveled and commented about my attitude and how I refused to let the cancer and the treatments get me down.
I owe Art Giser a great deal — the least of which is my sanity. An always comforting, yet firm voice, Art shook free the roots of my fears so that I could be calm in the face of adversity."
Beverley Saidel,
Denver, Colorado, USA