Page underconstruction, some of the links may not work yet
Your Spiritual Journey – Recording of a 2-day workshop with Art Giser
You are on a profound spiritual journey – whether you are consciously aware of it or not!
Maybe you have done lots of personal growth and healing work and yet still feel like you are stuck in certain areas of your life?
Do you have a sense that you're here on earth to contribute in some important way, but get frustrated because you can't find out what you should be doing?
In this recording of a 2-Day workshop with spiritual teacher Art Giser, you will begin to clear the energetic programming, blocks, karma, and spiritual contracts which are holding you back from connecting deeply with your wisdom and spirit.
Once you integrate your inner wisdom and spirit into your life, you will feel guided and supported no matter what is happening around you.
Stop asking what your life purpose is and start living your spiritual journey today!
Order the MP3 Downloads – $99
Experiencing Deep Self Love – Recording of a 2-day workshop with Art Giser
Most of us have so much ener­getic and uncon­scious pro­gram­ming that we are blocked from truly expe­ri­encing self-​​love. This programming tells us that it's not ok to love ourselves or that loving ourselves is ego based and wrong.
In this recording of a 2-day workshop with Art Giser, you will explore the fact that every single person on the planet is, in their essence, a beau­tiful and pow­erful spir­i­tual being. Everyone is spe­cial and unique. Every one of us is part of the unfolding of humanity.
Loving your­self does not have to be based on your judg­ments and eval­u­a­tions of the "right­ness" or quality of your actions (or inac­tions). Or by eval­u­ating one­self in rela­tion to other people. It can be based by the deep recog­ni­tion of your essen­tial spir­i­tual nature.
We will be looking at your essen­tial role in the unfolding of humanity, and the essen­tial role that every single human being plays (no matter how good or bad, worth­while, or worth­less people might judge them to be).
This is a recording of an entire 2-day workshop with Art Giser recorded in London in 2013.
xxx
     Order the 6 CD Set – £97

Order the MP3 Downloads – £77
Art Giser: Healing Ancestral Programming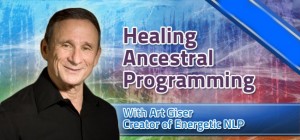 Programming, in the form of energetic thought forms, is also passed from generation to generation. It came through your Grandparents to your Parents or Guardians, and then from them down to YOU.
You would probably be amazed and shocked at how your ANCESTORS are affecting and limiting YOUR levels of success, satisfaction, health and relationships.
This was recorded at a live 1-day workshop in London and contains all of the material and processes covered on the day.

Order the the MP3 downloads of the workshop – $99
 CLICK HERE for more information about this product
 
Emotional Freedom
Your emo­tions affect every­thing in your life: your rela­tion­ships to others, your rela­tion­ship to your­self, your health, your suc­cess or failure, how you think and learn, your per­sonal devel­op­ment and your spir­i­tual development.
Much of the prob­lems that people have with their emo­tions are because they don't realize they are ener­get­i­cally pro­grammed and psy­cho­log­i­cally pro­grammed to have emo­tional responses that are not gen­uine for them.
This causes them to get over­whelmed and con­fused, and not know how to handle them. So they fight with, sup­press, sur­render to, or try to "handle" their emo­tions. They then make neg­a­tive judg­ments on them­selves for feeling the way that they do.
In this work­shop you will learn a system that uti­lizes cog­ni­tive NLP (Neuro-Linguistic Pro­gram­ming) processes with ener­getic processes to heal old emo­tional wounds, clear ener­getic pro­gram­ming that causes you to feel emo­tions that are not gen­uine for you, and bring in the ability to have emo­tional freedom and joy.
This work­shop was recorded live in the Rocky Moun­tains in Col­orado at the Fes­tival of Enlight­en­ment in 2011.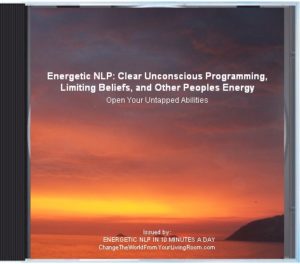 Energetic NLP: Clear Unconscious Programming, Limiting Beliefs, and Other People's Energy

Can you really change your life in 10-15 minutes a day?
This CD is the perfect introduction to Energetic NLP. Each track guides you through simple and very powerful energetic processes. This CD is designed with the busy person in mind: each process is only 4-10  minutes in length, and you  can copy them into your iPod or other mp3 player and listen to them at the gym, while taking a walk , or whenever is convenient for you.
Note: these processes are very powerful, so never listen to them in your automobile! As you become familar with the processes, you will be able to do them without the recordings and use them at home, at work,  when you are with other people, and anytime you want. In 10 minutes a day you can change your life!
Note: the audio on this CD is very useable, the material is great, but there are some problems with the audio. Again, its wonderful material, it will change your life, and it needs to be re-recorded. Until that time we are selling it for $9.00
Energize Your Goals Using Energetic NLP
Art will lead you in energizing your goals with simple processes that you can easily implement on a daily basis to bring your heart's desires into reality.
This CD will empower you to identify your authentic goals and clear other people's energy and programming which makes it hard to achieve your authentic goals.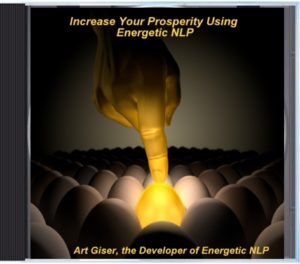 Increase Your Prosperity Using Energetic NLP
No matter how hard you work, your unconscious beliefs, programming, and other people's energies limit your prosperity. You deserve to be more successful with less struggle and effort!  As you listen to this CD, you will immediately start releasing the blocks that have held you back. You will begin to let your inner wisdom and spirit guide more of your decisions, actions, and relationships with others. Relax, enjoy these guided processes, and see what happens when your wisdom and spirit guide your life!
As you listen to this recording of a teleseminar, you will immediately start releasing the blocks that have held you back. You will begin to let your inner wisdom and spirit guide more of your decisions actions,  Relax, enjoy these guided processes, and see what happens when your wisdom and spirit guide your life!