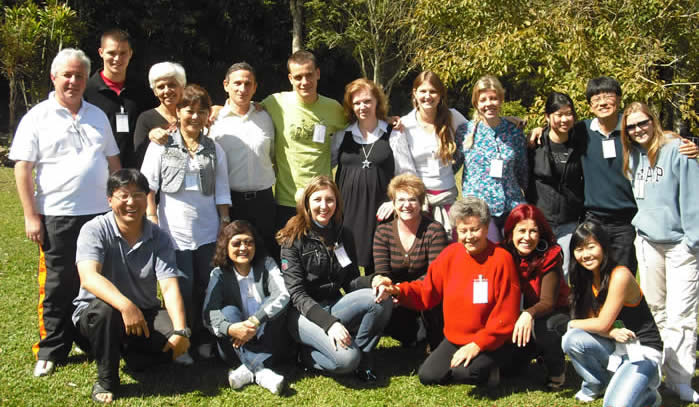 "Many personal development trainings claim to be transformational, but Art Giser is the real deal. I know this will continue to benefit me personally, and take my work with my clients to a completely new level". – Sally Webster, London
If you want to open up your hidden abilities and have more success and joy in your life, then join us for Art Giser's acclaimed Level 1 programme:
You will also:
Let go of unconscious limiting beliefs and family programming (many previous participants report amazing changes after the 4 days)
Clear energetic blocks which are holding you back in your career or preventing you from manifesting your true financial abundance
Learn how to let go of old, limiting, self-defeating programming which is stopping you from forming strong healthy relationships
Blast through blocks around your health to restore your vitality and leave you feeling a lot healthier
Rediscover your heart's passion and bring your life (and career) back on-target and re-connected to your soul's spiritual purpose
Open up to your magnificent potential and finally blossom into who you've always wanted to be (the idea is not to change you but to unleash you!)
"Every now and then there is a star that burns brightly heralding a new paradigm – Energetic NLP is an elegant synergy and development of our spiritual potential with in our every day reality delivered with a clarity, total empathy and professionalism that ensures that all participants are held in a generative, productive and most of all, a life changing space."
John Fielder – Accredited Master Coach & NLP Trainer
Why Every Person Needs Energetic NLP!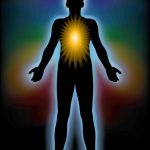 Energetic NLP is a system of simple concepts, tools and techniques that allow you to clear and develop your energy field, and open up to your full brilliance as you begin to reconnect with the divine and blast through any energetic blocks that are holding you back in life.
Energetic NLP can be done face to face and also virtually. This means as a practitioner or healer, it enables you to clear other people's energetic blocks even from 10,000 miles away!
Remember, Energetic NLP is not about changing YOU. It's about awakening your intuition and removing the blocks and programming which have been stopping you living your life at full power.
Whether you know it not or whether you're in touch with it not, each human being – including you – is a powerful spiritual being.
"For most people, the greatest good they could do for themselves is to change their energy."   Deepak Chopra, MD
Do you feel like you're living your full spiritual potential?
For a lot of us, the answer is – sadly – no.
You might have already done lots of healing work and personal development and yet still feel capped or stuck in certain areas – finances, relationship, career or health
You might feel frustrated because you're not following your passions or you might not even know what your passions are.
You could have a deep sense that you're here on earth to contribute but you're frustrated because you're not doing it or you know you could be doing it on a much larger scale.
You probably have a deep desire to more authentically express who you are as a spiritual being throughout all areas of your life.
If any of the above resonates with you, then you are probably living your life out of old energetic programmes which no longer serve you.
If you are feeling anxious and worried about money for example, then you will know that this programming doesn't just restrict you; it causes you to wake up in the middle of the night feeling acute emotional distress and sometimes even actual physical pain.
So where does this programming come from?
Energetically our parents started programming us from the womb and it was their role to programme us consciously and energetically. And the programming doesn't just come from your parents – it's from your ancestors too. Also siblings, friends, spouses, teachers, human beings – we all run around programming each other!
It's not bad or wrong – it's just part of being a person.
Things get stored in us and it affects our health, our success, our ability to form close intimate relationships and our chance to earn great wealth.
Let's take the analogy of a computer with a virus. You know that the computer has a magnificent operating power but when it gets a virus it severely impacts its ability to perform.
Yet, when you take out the virus, it swings back to full strength.
It's the same with you. Energetic NLP is not about changing YOU. It is about removing the blocks and programming which has been stopping you living your life at full power.
Using Energetic NLP, we take out the 'virus' and awaken you to your full brilliance.
Art's mission is not to fix you, but to unleash you.
Are you ready to blossom and shine?
How Does Energetic NLP Work?
We know from physics that everything is composed of energy and that there is an energy field in the
human body and around the human body.
In fact, there are around 92 different languages which have a word for human energy. Almost every ancient culture knew about it from Hawaiian Huna to Celtic mythology, Neolithic, South American cultures, the far east and so on. Even Einstein said: "everything is energy."
So if everything is energy then it makes sense that everything has an energy field.
ENLP has really been transformational in my life and has helped me to become more authentic, peaceful and fulfilled. I love its ability to touch and connect with everyone who is open to it and have integrated it completely in my work with young people and corporates. Thank you Art!
Genevieve Boast, London
Energetic NLP is focused on clearing and developing your energy field by using a system of simple tools and techniques which you will learn during your 4 days with Art and can continue using long after the course has finished.
Energetic NLP is a synthesis of the best from:
NLP (Neuro-Linguistic Programming) *Please note you do not need to have any training or previous awareness of NLP to take part.
Energetic Systems
Intuition Development
Spiritual Development
Over the last 29 years, through studying with all the developers of NLP, prominent spiritual leaders and a number of different energetic and spiritual systems, Art has developed Energetic NLP into the innovative and ground-breaking field that it is today.
"I have had the privilege of knowing Art for more than 20 years. In all my interactions with him, I have found Art to be a man of integrity, intelligence, skill and heart. In addition, Art has tremendous versatility. He can address the delicate personal and emotional terrain of human emotions and at the same time stay focused on achieving practical outcomes. I am frequently called upon to make referrals for a variety of coaching and consulting requests and Art is always at the very top of my list. I wholeheartedly recommend him as a trainer, coach, consultant and practitioner. Whatever the situation is, Art will be able to help!"
Robert Dilts –
A leading developer of NLP and author of 14 books on applications of NLP
Who is Art Giser?
Art Giser is the creator of Energetic NLP and a gifted healer and intuitive. He created Energetic NLP to provide rapid, easy and powerful ways for people to unleash themselves – so you can let go of limiting beliefs and old energetic programming which no longer serves you.
Infamous for his innate sense of fun, his mischievous way of training and his light-hearted approach, your 4 days with Art will be full of light, joy and a lot of laughter! Even though he has a strong scientific background, you will never feel 'lost' as Art has the knack of explaining the science behind Energetic NLP in a clear and concise way.
Art comes with a huge list of credentials which is worth mentioning to demonstrate how educated, researched and informed he is in the field of NLP, science, and intuitive healing. He not only managed a research lab in reproductive endocrinology for 11 years at the University of California, San Francisco Medical School and Hospital but he also studied with all of the major developers of NLP including Richard Bandler, John Grinder, Leslie Cameron-Bandler, Michael Lebeau, David Gordon, Robert Dilts, and Steve and Connie Ray Andreas.
Art is a Member of "The Association for NLP (ANLP)" – A UK based organisation which upholds standards within the field of NLP. He was also part of the NLP research team headed by Leslie Cameron-Bandler, David Gordon, and Michael Lebeau that developed Imperative Self Analysis. He was one of the first 2 trainers certified by them to teach Imperative Self Analysis.
He was in the first NLP and Health workshop with Robert Dilts in 1985 and has completed the health certification programme. Art has been a NLP trainer and taught energetic transformative work & intuition development for over 23 years. He currently lives in San Francisco, and has clients in the US, Europe, and South America.
For the last 27 years, Art has studied intensively with a diverse group of spiritual teachers, intuitives, and healers including: John Friedlander – author and trainer, John Fulton – founder of Aesclepion, Joseph Martinez – former president of the Philippine Psychic healers Association of America and John Norman.
And last but not least, Art has had two empowerments directly from the Dali Lama of Tibet, and the internationally known Brazilian healer, John of God, has been helping Art to increase his healing abilities for the last 8 years.
"Most people are not running their own lives – they are 'programmed' by the beliefs and energy that they have picked up from family, friends, and peer groups. Energetic NLP is about clearing unconscious programming and energy blocks so you have access to the real you, can access your hidden abilities, and can more easily achieve your goals. I believe that everyone is a powerful being and that nobody needs to be 'fixed' – they just need to be unleashed"
Art Giser – creator of Energetic NLP
Who is Energetic NLP Level 1 For?
The course attracts people from diverse backgrounds – from coaches and therapists, to normal everyday folk in regular professions right through to those on a deep spiritual path.
This is a highly experiential, hands-on course full of powerful processes so if you are someone who prefers dry theory work it's not for you!
This course is ideal for:
1. People Who Love To Have Fun!
Art's philosophy is that personal transformation should take place in a fun, light-hearted environment. Art himself is a fun, mischievous, playful trainer so if you're someone who likes to laugh whilst you undergo deep transformation, then this workshop is tailor-made for you.
2. Newbies To Energy Work
Everyone is born with the capability to work with energy – it only needs to be nurtured. Exploring your energetic nature helps you to clear inner blocks which are stopping you from living your full potential in one or more areas of your life. You do not need any previous experience in energy work to do this.
3. Coaches, Practitioners, Therapists & Healers
Without any shadow of a doubt, if you are a coach, practitioner, therapist or healer, then Energetic NLP is a very powerful addition to your practitioner's tool-belt. Energetic NLP can be done face to face or virtually meaning you could have a worldwide client practice!
4. People Who Have Previously Studied Other Healing Modalities/Energy Systems/Spiritual Systems
Many attendees are those who have tried other healing systems but still feel stuck in one or more areas of their life. This is because lot of healing work does not address the root causes. Art takes a totally different approach as he seeks to uncover the underlying reason for any blocks you may have.
5. Anyone Interested In Ongoing Personal & Spiritual Growth
The powerful techniques and processes are designed to allow you to release old limiting beliefs and energetic programming which has held you back, and allow you to connect with a new more powerful, fulfilled, abundant and joyful you. These processes do not stop when the course ends! After the course finishes there is one 90 minute teleworkshop which will help you embed what you have learned and ensure you get the absolute maximum from the course.
6. Anyone With An Open Mind
Put aside any doubts about energy work and come with a blank slate and prepare to be amazed!
"Many personal development trainings claim to be transformational, but Art Giser is the real deal. I know this will continue to benefit me personally, and take my work with my clients to a completely new level."
Sally Webster, London
"I've been attending Art's trainings and workshops since 2009…the Level I & II trainings as well as many of his one-day and weekend workshops.  Since 2000 when first introduced to energy healing through a Reiki class, I immersed myself in studying and practicing Energy & Shamanic Healing.  I've also been an NLP Practitioner since 1981, maintain those practices and been an NLP Master Practitioner since 2000.  Art's blending of NLP and Energetic Healing is unique and masterful. He is a gifted teacher and healer. I feel blessed to have been guided to him and of all my studies with Energy Healing, I consider his work the most comprehensive, meaningful and powerful Energy Work I've experienced."
Berni Sharkus M.Ed., MNLP
What You Can Expect From The 4 Days Live Training With Art:
The benefits of this amazing programme are quite phenomenal. People do genuinely rave about Art's course for months and years to come! It really is that life-changing.
We can't list ALL of the benefits because words don't even do them justice but here are a few:
Let go of unconscious and energetic limiting beliefs and family programming which are holding you back in life – finances, relationships, health or career– there is typically a lot to clear and you will notice the difference after giving yourself 4 days to work on yourself!
Discover how to use transformative energies and NLP to facilitate mental, emotional, and physical healing in yourself and others (even from 10,000 miles away!)
Expand your intuition (clairvoyance and clairaudience) and your ability to discern the human energy field (You will be amazed!)
Practitioners! Energetic NLP will help your clients in deeper and more profound ways – this is an excellent and unique tool for your practitioner toolbelt
Help heal or enhance the health and vitality of your friends & family
Use Energetic NLP in the workspace – create clean, positive energy for your negotiations, your meetings, your office or your therapy room
Be able to clear and work with your energy field
Feel more grounded and calmer – (many participants experience less stress and busy-ness after attending this course)
Reconnect to your life's passion in your profession (begin to discover what it is you truly want to achieve in life and start to access the courage to do it!)
Experience more joy and vitality in everyday life (imagine starting the day with a smile on your face and a bounce in your step everyday!)
Connect with more of your true self and your inner wisdom – perfect for writers, creatives, artists, intuitive healers and just about anyone who wants to access more of their intuitive self!
Step up to making a larger more global contribution as you unleash your real BIGGER you (is it time you started playing a bigger game?)
Become part of an international community of talented people who use their skills and heart to support one another (this one aspect is priceless)
Be able to help people you know or work with to clear their unconscious blocks energetically (very handy in your home -life or workspace!)
Open up to endless new possibilities in your life – they truly are boundless once you clear yourself of old programming
Have more joy in being alive!
And lots lots more!
What The Course Includes:
What The Course Includes:
Energetic NLP Level 1 – 4 Days LIVE Training
4-day live, experiential training with the Founder of Energetic NLP, Art Giser (Value £997)
Your very own extensive manual so you can access the information in the course long into the future
PLUS
1 x 60 minute pre-course live teleworkshop which can be accessed by internet or phone & recordings available for you to download (Value: £47)
Clear energy and unconscious blocks BEFORE the programme even begins (which means your transformation will be faster and deeper during the live course)
Get to know Art and each other before meeting in person so that you build trust and work together more effectively during the live training
Ensure you get the most powerful, long-lasting growth possible from the 4 days
AND
1 x 90 minute post-course teleworkshop. Agin, this can be accessed by internet or phone & recordings will be made available for you to download (Value £97)
Embed what you have learned into your daily life & make sure the energetic transformation is ongoing (we cannot stress enough that this is not a course which ends on day 4!)
Further assistance and help with practising your new skills on yourself and others
Support you in managing any challenges which may have come up, and to share you personal victories and transformations with each other
Experience new processes from Art to continue and enhance your transformation (the 4 days are extremely powerful and Art is careful not to overload you! This is why he leaves some of the processes to after the course so you will you have had enough time to process the deep growth from the live training)
What Past Attendees Are Saying:
We have so many amazing testimonials from people who have attended Art's workshops that it's hard to choose amongst them. Here are a small selection:
"Having been involved in the world of personal spiritual growth for twenty-five years I have experienced a lot of people and I have found the Energetic NLP work really simple and powerful. As a result of knowing Art and doing all his programmes I feel so much freer to be more of my true self."
Nick Williams co-founder of Inspired Entrepreneur, author and participant in Energetic NLP courses
A truly life changing experience (this one really is!) and everyone will get enormous benefit (and lots of fun along the way). I came to the course out of curiosity and a desire to manage energy better but so much more opportunity and learning has opened up for me – thank you.
Judith Hanson – Participant from Kettering
Art is a master in the art of the possible. And what's possible will exceed your wildest expectations. So don't delay : sign up now!
Elaine Hopkins, participant from London
Art is a pleasure to work with. His humility, sense of humour and authenticity brings out the best in each participant. I am extremely honoured and grateful to have learnt so much in four days. This was exactly the right course to take.
Sukaina Juma, participant from London
"Art has an easy and fun way of demonstrating techniques that help you to get rid of "stuff" and to make your life better. It suits everyone and it is astonishing how much you can learn in a few days – probably because Art's approach is so experiential"
Jo Lynn, participant from London
"I have done many workshops with other healers/self-improvement instructors and what makes Art shine above them all is his integrity and authenticity. The workshops are small and intimate with lots of practical hands on exercises and tools that you can take into your everyday life. Art is committed to helping transform your life and is generous about letting you share his knowledge with others.
Rona Magnay, participant from London
http://www.youtube.com/watch?v=BRFFg3Bz1lo
Its time for you to blossom, and discover how amazing you really are!
When you sign up for the early bird discount, you will receive the 8 DVD set, Your Miraculous Self, as a gift. It is the full video recording of a day Energetic NLP workshop. It normally sells for $466, so it is like receiving an extra discount of $466!!!
April 4-7, 2014 in Tucson at the University Of Arizona
For other locations, including London, San Francisco, and Los Angeles, please click on this link Future programs are planned for Vancouver, Canada and Serbia.
This is a 4-day live training with Art Giser in which you will learn the foundation tools of Energetic NLP, and the essential energy processes that everyone needs to know. By the end of this 4-day program you will:
Have enabled your intuition and ability to discern the human energy field
Be able to clear your energy field
Be able to help your clients clear their unconscious blocks energetically
"Art is a pleasure to work with. His humility, sense of humor and authenticity brings out the best in each participant. I am extremely honored and grateful to have learnt so much in four days. This was exactly the right course to take. You will just know if is the right course for you. I am eager to take level 2 next week" . Sukaina Juma, London
Here's what you will receive
Live training with Art Giser, founder of the ENLP system
A 4-day training course complete with extensive manual
A Free pre-course group coaching telesession to help you clear energy and unconscious blocks BEFORE the program begins, so that :

you can get the most out of the program.
your skill development and personal growth begin before the program even begins!
we all get to know each other before we meet in person to begin developing a community

FREE on-line guided imagery audio and video downloads for accelerated learning of the processes and tools used
Access to up to 4 FREE program on-line teleclasses
2 FREE post-course group coaching telesessions to ensure that you can and will use what you have learned to transform your life.
In these sessions Art Giser will present new material, you will get help in dealing with problems or challenges, and share your aha's and success stories with each other. You will get help with applying your new skills and talents. This will ensure that you are able to actually use the techniques in your daily life. That is a total of 8 hours of telesessions, or more than a days worth of additional program for free (a typical workshop day is 5-6 hours of actual training). The follow up group coaching sessions are a highly unusual benefit, we do not know of any other training program that is so dedicated to your acquisition of the skills and transformation of your r life.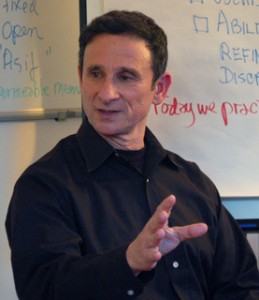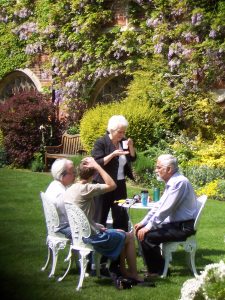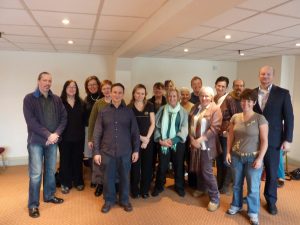 The ENLP Level 1 Program
The 4-day Program includes:
Using universal and earth types of energy
Opening your clairvoyance – "clear seeing"
Enhancing clairaudience – "clear hearing"
Recognize energies – visually, auditory and kinesthetically
Using universal, earth and nature energies
Using gold energy
Using your body's male and female energies
Harmonizing Chakras
Morphic genetic fields
Healing: How to do Hands-on healings
Healing: How to do Remote (distance) healings
Simple and effective techniques for energetic healing
The synergy of NLP and energetic techniques and concepts:
You will be able to use energetic techniques to enhance the effectiveness of the other modalities that you already use
Protection:

How to protect yourself from the negative energies your clients release as you work with them
How to make sure that you don't take on their issues
How to release any energies that you do take on

How to use energetic techniques to greatly enhance the transformative and healing work that you can do with your clients
Clear limiting beliefs and programming energetically
Help your clients get in touch with their true selves
Clear the energies and issues they have taken on from other people (especially parents and other family members) that cause them distress
How to release Karma, your own and your clients'
How to simultaneously help your clients, and create more personal and spiritual growth for yourself at the same time
Help your clients release their family's and other people's energies that are causing them to have problems
Enhance your intuition and "knowing"
As you clear other's energy out of your own energy you find a deepening sense of knowing yourself and losing the reactions that aren't your own. This enables you to determine:

Who you really are
What you really want
What your life purpose is

Deeper knowledge of yourself and your spiritual healing
Setting the energy in a space to enable transformation by creating a healing/miracle space:
How to ground and set the energy of a room or meeting
How to be grounded and in touch with all your abilities
Days 1 & 2- 
1. Enhance physical & emotional healing. 2. Accelerate personal and spiritual growth 3. Develop your intuition. 4. Eliminate old behavioral and emotional patterns and self-defeating behaviors. 5. Enhance and improve work and personal relationships. 6. Clear unconscious programming and beliefs energetically. 7. Learn how to run energy through your body – a key to maintaining health. 8. Keep yourself from being harmed by other people's energy. 9. Recover your energy from others.
Days 3 & 4- 
1. Increase your intuition (clairvoyance & clairaudience), your ability to know what is going on with your clients and other people. 2. Increase use of your inner wisdom to guide your life. 3. Open up your "knowing"- your connection to universal knowledge. 4. Enhance your health using energetic processes. 5. Release karma. 6. Enhance the effectiveness of other approaches that you use by combining them with Energetic NLP. 7. Learn how to easily give energy healings. 8. Learn to do remote work: read & clear people's energy at a distance. 9. Learn how to have more success, joy, and profound satisfaction with your life. Package includes:
Pre class group tele-energy session to prepare you to get the most from the program
2 post teleworkshop and coaching session to help you integrate what you learned into your life (this is invaluable!)
Membership in the International Association for Health & Learning (IAHL) continued educational opportunities for support
Participation in a free, lifelong, incredible support network of graduates (this alone makes the program worth it).
Manual
Can't attend all four days?
There is a two Day Workshop Option
Take days 1 & 2 only- you can participate in the pre class and get a manual for the two days.  
"If you are ready to blossom, and to discover how amazing you really are, click on the link below"

If you sign up for the "Super Early Bird" Discount and Bonus Package:
The conference special ends
You will receive:
4 Days of face to face training
One pre-teleworkshop to prepare you to get the most out of the experience
Two bonus follow up teleworkshops to ensure that you can integrate Energetic NLP and Your Miraculous Self into your life
SPECIAL BONUS: The 8 DVD set of a professionally videoed first two days of a Level 1 program in London to help you more powerfully integrate Energetic NLP into your life.
Special Super Early Bird Offer.
Reduced from $999 to $745 for the 4 day workshop plus 3 bonus teleworkshops. Plus the $390 DVD set as a bonus
The Super Early Bonus Package includes the 8 DVD set of the first 2 days of an Energetic NLP Level 1 training in London! So that you are effectively paying $345 for the workshop itself.
To make this irresistible, and more affordable for you, it will automatically divide it into 3 monthly installments of $249 (the last installment will be after the program is over!).
Please remember, this Super Early Bird offer expires February 15 at midnight ET (sorry, no exceptions) Special Limited Bonus: if you sign up for the early bird discount, you will receive the 8 DVD set, Your Miraculous Self, as a gift. It is the full video recording of the first 2 days of a Energetic NLP Level 1 workshop in London. It normally sells for $390, so it is like receiving an extra discount of $390!!!
Click Here to Sign Up!
Act soon to recieve  special super early bird discount expires on                 at midnight ET
Still deciding to participate? Art explains more about Energetic NLP and the benefits to you of participating in the amazing Level 1 program
Its better full screen, click on the play arrow and then just click on the YouTube symbol on the bottom right corner of the video.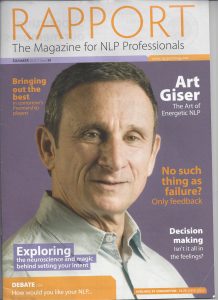 Art was featured in the premiere  NLP Magazine Rapport

Have you already attended a 4 day Energetic NLP Level 1 program?
People consistently tell me that repeating Level 1 is an amazing experience. They get so much more out of it the second time.
Click here if you want to attend the program again at a very special early bird discount, and if you are a graduate of a 4 day Level 1 program!
This is ONLY for people who attended a previous Level 1 program
"Art Giser is a fine person as well as being a truly gifted teacher and healer. We have seen and experienced the deep changes that can occur as a result of his fascinating work. He blends energy work with powerful NLP patterning about as well as it can be done. We both recommend his training and his work." Tim Hallbom (president) and Kris Hallbom (co-director and coach)
The NLP and Coaching Institute of California
"Art Giser's work powerfully combines NLP and energy utilization. He guides the individual to new levels of awareness that create a pathway to deeper connections with the instinctual self." Ann Gardner, Ph.D.
NLP Trainer
"Based on my personal experience, I believe Art Giser to be a gifted healer with a down to earth perspective. I am not qualified to judge whether their work is truly 'psychic" ­nor do I care about that. An NLP practitioner with an open mind can significantly enhance his or her awareness and effectiveness by studying with him." Tamara Andreas
, NLP Trainer & Author
"I met Art 18 years ago. We had both studied psychic and human development for many years already. Immediately we began an exciting collaboration that has grown more and more exciting. I have observed Art becoming ever more skillful, powerful and effective; synthesizing meditative disciplines from the East and the West, and even from South America, into a unique, extraordinarily helpful system. Art stays grounded and adventurous, practical and visionary; and can communicate all this information clearly and directly." John Friedlander, 
Author of Basic Psychic Development: A User's Guide to Auras, Chakras & Clairvoyance
"I have had the privilege of knowing Art for more than 20 years. In all my interactions with him, I have found Art to be a man of integrity, intelligence, skill and heart. In addition, Art has tremendous versatility. He can address the delicate personal and emotional terrain of human emotions and at the same time stay focused on achieving practical outcomes. I am frequently called upon to make referrals for a variety of coaching and consulting request and Art is always at the very top of my list. I wholeheartedly recommend him as a trainer, coach, consultant and practitioner. Whatever the situation is, Art will be able to help!" Robert Dilts,  a leading developer of NLP and author of 14 books on applications of NLP
"Energetic NLP fits perfectly with NLP – when you are helping someone release an emotion or a trauma then adding some energetic release enables them to get great results instantly, for once the emotion has really left you energetically there is no possibility of it returning. Energetic NLP offers you the ability to coach at a whole new level, you can help clients get remarkable new insights."
"To learn the skill to release energy that is trapped in your body and has been for some time, has a profound effect on your health. It is so simple and yet so profound. I know what it is like to pick up other people's negative energy in the course of doing invaluable work with them; our own protection is essential to our health and well-being. Art's method of delivery is fun, insightful and illuminating. I have learnt much about myself, and developed invaluable skills for my clients." Olive Hickmott
, Health and Wellness Coach     "Art is a brilliant teacher /trainer and a wonderful person. He humour. It is a real enjoyment to attend his workshops." – Gabriele Asteriti,  Italy     "Art has an easy and fun way of demonstrating techniques that help you to get rid of "stuff" and to make your life better. It suits everyone and it is astonishing how much you can learn in a few days – probably because Art's approach is so experiential" – Jo Lynn, London     "A truly life changing experience (this one really is!) and everyone will get enormous benefit ( and lots of fun along the way)" – Judith Hanson, Kettering     "I have done many workshops with other healers/self-improvement instructors and what makes Art shine above them all is his integrity and authenticity. The workshops are small and intimate with lots of practical hands on exercises and tools that you can take into your everyday life. Art is committed to helping transform your life and is generous about letting you share his knowledge with others. Plus its rare that an instructor will have dinner with attendees but Art does! "– Rona Magnay, London     "ENLP has really been transformational in my life and has helped me to become more authentic, peaceful and fulfilled. I love its ability to touch and connect with everyone who is open to it and have integrated it completely in my work with young people and corporates. Thank you Art! "– Genevieve Boast, London